Dinosaur in My Pocket was a limited series of figurines released only as premiums in special Hardees Kids' Meals in 1993. This series is related to, but should not be confused with, the Monster in My Pocket Series 6 Dinosaurs range, although this was also released under the name Dinosaur in My Pocket in some markets. The numbers of the Dinosaur in My Pocket figures followed on from the Super Creepies Series 5, but were seemingly overwritten by the numbering system of Series 6, which alos followed on from Series 5.
To the best of knowledge, only four figures were released in the Dinosaur in My Pocket range. These four figures represented the same dinosaurs as the first four figures in Series 6. However, the designs were significantly different. The Dinosaur in My Pocket toys were simple, one-coloured soft plastic figurines, much in the style of Monster in My Pocket Series 1. The figures were available in green, blue, yellow and pink. The dinosaurs represented were Tyrannosaurus Rex, Brontosaurus, Triceratops and Stegosaurus, with points values of 150, 145, 140 and 135 points respectively.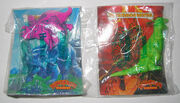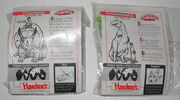 Community content is available under
CC-BY-SA
unless otherwise noted.