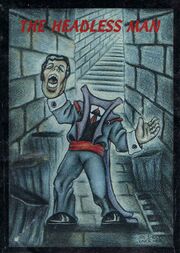 Headless man is a 10 point unreleased monster that was supposedly part of the Series 3 line of monsters.
Trading card text
(Translated from the mexican card)
Species: Spirit
Date of death: 1775
Size: A head shorter than most men
Habitat: Forests of the Northwest US
This creature rides his black horse at the speed of the wind, is able to jump over the trees and disappear in a split second leaving just a spark behind.
2006 Series
Headless Man is a monster in the class "The Dead." He is monster #35. This time he wears a red tailored suit, while holding his head in his hand with a top hat.

Official Card Biography
The Headless Man was once a traveler whose horse was found but not his body. Later this headless ghost was seen wandering around the woods where he was last seen. Even today, his headless body can be seen wandering the inns and woods of Londonderry seeking revenge.