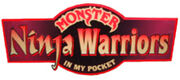 Monster Ninja Warriors in My Pocket were a series of seventeen monsters released in 1996 as a follow up to the successful Monster Wrestlers range. They were manufactured by Vivid Imaginations and relased in the United Kingdom and the Republic of Ireland. The figurines were made from hard rubber, and were unique in the Monster in My Pocket range for having loose weapons, which were gripped in the figures' hands. Each monster had a two-part points value, made up of a Warrior Skill rating for the monster, and a Weapon Power rating for the accessory. The total points value was not stamped on the monster as in previous series. Instead, the series cashed in on the Pogs craze by including Power Caps in each pack, displaying the points breakdown on the back. The total points value ranged from 30 to 100 points. The figures were released in four and eight packs; two playsets were also released containing exclusive monsters: The 'Twist-a-Fist' set included Kung Fu-Neral and Shogun Slasher, while the 'Crunch Punch' set included Sayonara Sucker and Bigfoot Kickboxer. The final monster, Karate Sid, was only available via mail order in return for tokens from the packs, and was a repaint of #8, Kung Fu-Neral, rather than a unique sculpt.
The Warriors
Edit
Community content is available under
CC-BY-SA
unless otherwise noted.