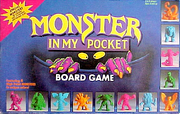 The Monster in My Pocket Board Game was produced by Decipher and released in 1991.
The game came packaged with four high-value Series 1 monsters, in four rare colours - neon pink, orange and blue, similar to the colours of the Series 2 line, and a darker, pine green. The monsters most commonly found with the game were Behemoth, Tengu, Triton and Kraken, although the packaging displays the remaining 25- and 20-point monsters from the first series. The package also included 48 cards, which sported artwork of each of the Series 1 monsters, identical to that on the collectable trading cards but in blue-and-white monochrome, and with some monster stats on the reverse, including their strength in various areas of the game board.
The game board is split up into four areas: the Volcano Pit, the Swamp, the Ice Cave and New York City. Each section is then divided up into smaller sub-sections, on each of which you place one of the cards. Progress was made around the board by spinning the included spinner, the aim being to collect all of the cards in play. Certain monsters do better than others in certain areas; for instance, according to his card, Great Beast has "super power" in the Swamp but is "weak" in the Volcano. If a player with the Behemoth card were to go against a player in the volcano whose monster card was normal, strong or super powerful in the Volcano section, the player with Behemoth would lose and the other player would get to take both cards.
A second Monster in My Pocket board game, titled "Monster Clash," was released later that year.
Gallery