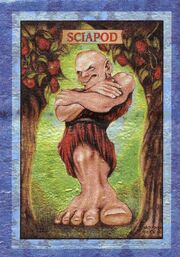 Sciapod is a 10 point unreleased monster that was supposedly part of the Series 3 line of monsters.
Trading card text
(Translated from the mexican card)
Species: Humanoid
Born: 1000 b.c.
Size: 1.80 x .30 meters
Habitat: Mount Olympus
This beast has only one leg and a foot of huge dimensions, plus a distinctive sweet smell. It is herbivorous and feeds of the fragrance of a fruit that he always carries.