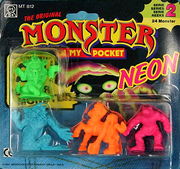 The Series 2 of Monster in My Pocket figures came soon after the originals, in 1992. Only twenty-four monsters were in this collection, and the colors were neon green (slightly darker than the series 1's neon green), blue, pink, and orange. Only a select few of these monsters made any appearances in Monster in My Pocket media. The boxes ranged from a 24-box set with all the series 2 figures, as well as 12-box sets with one 30-point monster and 11 random monsters. It also introduced the first 30 point monsters and got rid of the 5 point monsters.
Due to protests, the Hindu deity Ganesha was deleted from all but the very earliest releases in the United Kingdom, making this monster particularly scarce there. 24-packs in the UK included a Series 1 monster in its place.
Community content is available under
CC-BY-SA
unless otherwise noted.