Skeleton is monster #47 from Series 1, and was redesigned for the 2006 relaunch series
Monster information
Edit
Skeleton comes in all four colors, as well as all four neon colors, plus a very rare pine green premium edition. He is depicted as missing a shin bone, as well as grasping a skull in his hands.
A skeleton is a decomposed human being. Stories of skeletons coming to life have been told for centuries, and they are the most commonly known monsters.
Trading card
Edit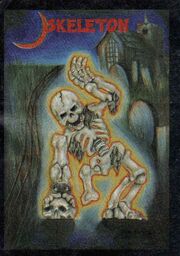 Species: Deceased Humanoid
Died: 1898
Size: 6 Feet Tall
Habitat: In the closets of old abandoned houses
Although he died nearly 100 years ago, the Skeleton still lives on today. Tired of being used as worm food, this beastly bag of bones arose from the ground to menace the ancestors of those who put him to death. The Skeleton's bones are magically joined together with no muscles or skin. He possesses great speed and will not hesitate to pull off one of his arms or legs and use it as a club to attack his enemies. As you can see, this bonehead is not exactly a spineless wimp, (for then he'd be called chicken bones)! He's powerful and scary. You'd better hope he doesn't come shake, rattle, and rolling after you!
In other media
Edit
Konami video game
Edit

Heads will roll when you meet this guy.
Skeleton appears as an enemy monster in the Monster in My Pocket video game. He is found in the first area of the first stage. He rolls his heads at the player, which can easily be avoided by jumping.
Comic book series
Edit
Skeleton makes a cameo in the Monster in My Pocket comic book series. He attends the meeting held on Monster Mountain, though it is unknown if he sided with Vampire or Warlock.
2006 remake
Edit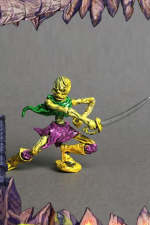 Skeleton was one of the monsters remade in the 2006 series. He wears tattered clothing and holds on to a sword, looking very similar to an undead pirate. Included in the group The Dead, Skeleton was given a total points value of 203 on the website and collectable game card, and had the following description:
"Skeleton is a mindless and brutal soldier in the army of the 'undead.' This bony, almost invincible, fearless fighter and half-brother to the zombie can only be defeated when led off a cliff into the deep, dark depths of the ocean. Watch out below!"
Community content is available under
CC-BY-SA
unless otherwise noted.