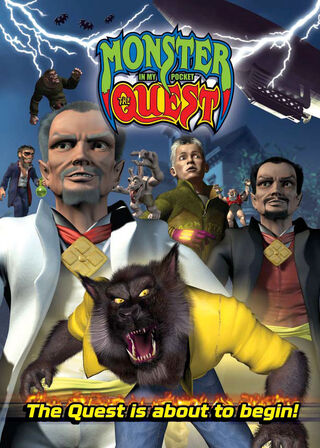 Monster in My Pocket: The Quest was a proposed computer-generated animated series created in 2005. The series planned to use several characters from the established Monster in My Pocket universe, but also introduced new monsters to the range. Although several episodes were planned, the series was inevitably canceled, leaving very little information about The Quest. Some materials dispaly the alternative title Monster Quest. The series was to have been produced by Peak Entertainment, and would have run to 26 episodes.
Story
After a battle between the powerful sorcerer Warlock and his evil twin brother Morlock left the Tapestry of Terror shattered, the two split up in an attempt to recruit as many monsters as possible to their side. Warlock was able to seal Morlock into the remains of the Tapestry, containing them in pockets of a cloak. Later, Warlock recruited a young boy named Jason to help him catalog the monsters. However, Morlock soon escaped with several other evil monsters, leaving Warlock, Jason, and Jason's best friend Diana, to find the monsters and return them to the cloak's pockets.
Similar to The Big Scream, the monsters are able to grow if they hear a "scream of fright."
Toy range
A tie-in toy range was to have been released alongside the cartoon series. Prototype versions of many of these toys were displayed at toy fairs during the promotional period. They included re-releases of the original range of rubber mini-figures (from Series 1 and Series 2), alongside a new range of 6" poseable PVC action figures, representing the main characters of the series. Indications are that there would have been 150 variant miniature figures.
Characters
Main Characters
Jason/

Argent

Warlock
Morlock
Diana
Other Characters
The Phantom of the Opera

Mothman
List of episodes
The Quest for the Werewolf
The Quest for the Eye
Quest for the Behemoth's Pearl
The Quest for the Ghost
Baba Yaga's Revenge