Jurassic World: Dominion Dominates Fandom Wikis - The Loop
Play Sound
Werewolf is monster #3 from Series 1.
Werewolf has appeared in several incarnations of the franchise, often seen among the heroic monsters. Werewolf was brought back for the 2006 Series.
Series 1
Werewolf is a twenty-five point monster and is available in the original colors of green and red, plus all four later neon colors and rarer premium colors of neon orange and pink. He is depicted as a wolf humanoid in a pose as if he's howling at the moon.
Official Biography
Species: Humanoid/Animal
Born: Descended from Indo-European warriors during ancient times.
Size: 6 Feet Tall
Habitat: Cities and dark forests throughout the world
The Werewolf combines the intelligence of a human with the strength and cunning of a deadly wolf. In his "human" form, this quiet and unassuming creature can sometimes be identified by certain features such as hair growing on his palms, long index fingers, eyebrows which grow together, and worst of all - dirty toe nails! When exposed to a full moon, he is secretly transformed into a blood-thirsty, growling beast who possesses a craving for human flesh. The only known method of killing the werewolf is with a silver bullet. So, if there's a full moon out tonight, listen carefully to that distant howl... another victim perhaps?
2006 Series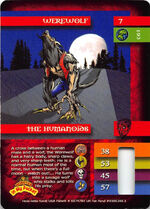 Werewolf was one of the monsters who received a complete make-over for the 2006 remake. He is monster #7, and is placed in the group, the Humanoids.
Official Card Biography
A cross between a human male and a wolf, the Werewolf has a hairy body, sharp claws, and very sharp teeth. He is a normal human most of the time, but when there's a full moon - watch out! ... He turns into a savage wolf who stalks and kills his prey.
In other media
Comic Book Series (1991)

In the Monster in My Pocket comic series, Werewolf is first approached by Vampire to aid him in the meeting on Monster Mountain with Warlock. Seemingly a close friend of Vampire's, Werewolf agreed, and was shrunk down with the others after Warlock's scheme succeeded. When first changed, Werewolf immediately attacks a stray cat, which was hissing at the heroic group of monsters. Vampire quickly calmed Werewolf down, and the group was able to escape. Later, in the battle against the Tyrannosaurus Rex, Werewolf teamed up with Vampire, Golem, and Swamp Beast, and were able to defeat the monster.
The Big Scream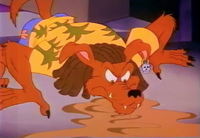 Werewolf appeared once again as a good monster in the animated special The Big Scream, voiced by Stuart K. Robinson. He called himself Wolfmon, and spoke with a Jamaican accent. He, along with Dr. Henry Davenport, Mummy, and Big Ed, were the protagonists of the cartoon. He aided the Invisible Man in his experiments, but more often than not relaxed, waiting for a cure. Having a laid-back personality, Wolfmon battled Medusa in the climactic battle with the evil monsters, but was turned to stone. He eventually recovered and went back to stay with Carrie Raven.
Monster Rock
Werewolf sings Full Moon Blues on the audio cassette Monster Rock.
The Quest
Werewolf was set to appear in The Quest, though the series was cancelled early in production.
Upcoming Animated Series
Werewolf has been seen in screenshots for the upcoming animated series.
Gallery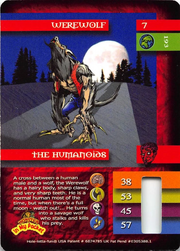 Trivia
Werewolf did not appear in the Konami video game, presumably because he had allied himself with Vampire and the Monster in the comic series that the game is loosely based on.
External links